I have six brothers.  Yes.  Six.  No, they didn't beat me up.  No, I'm not a princess.  Yes, it was awesome having that many brothers.   One of them is a chef and back in the day I would help him at his restaurant….no, not in the kitchen….doing coat check on Saturday nights.  He made me this pizza one night before my "shift" and took care explaining each step and detail to me.  I fell in love with it immediately and it's been in my repertoire ever since. He, along with the 5 others, often had cooking competitions as wee lads…"best friend egg sandwich- GO!" so obviously, food was big in my house.  As was music (DUH!).  Those boys taught me how to rock (and swear) and always had music playing loudly in the house growing up.  Pesto Pizza paired with a playlist of some simply great rock tunes.  Now turn it up to 11 and toss some dough in the air!  (Bonus points for air guitar while pizza is in the air.)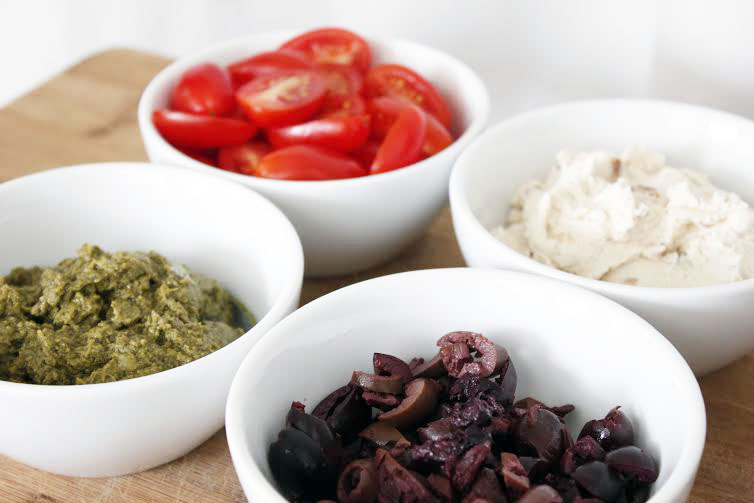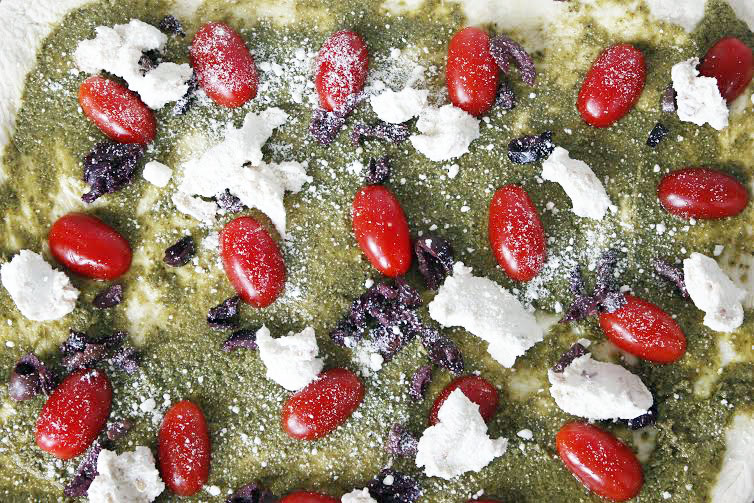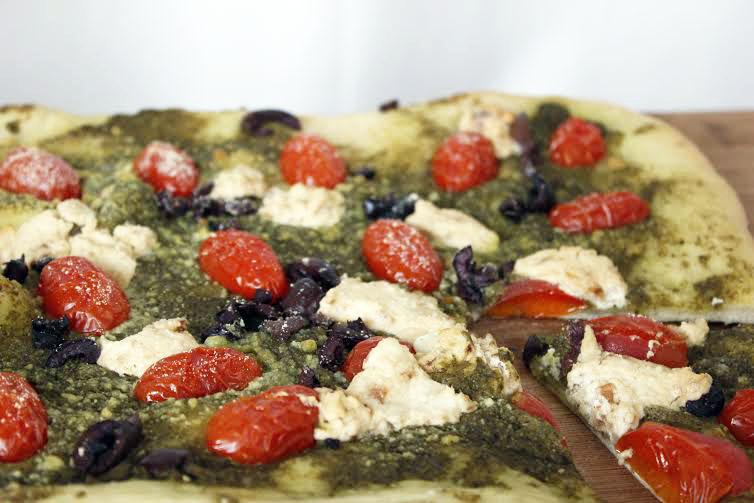 PESTO PIZZA
makes 2 pizzas
2 balls of pizza dough (my brother's recipe is below the playlist)
1 large shallot, finely diced
3 Tablespoons half & half or cream
5oz goat cheese, softened at room temperature
½ cup pesto (this recipe is a good one)
1 cup chopped grape tomatoes
½ cup roughly chopped, pitted kalamata olives
olive oil
salt & pepper
cornmeal
mozzarella or parmesan cheese
Preheat oven to 400 degrees
Saute shallot in olive oil over medium heat until soft.  Add half & half, stir to combine and remove from heat.  Combine mixture in bowl with goat cheese and mix until incorporated.  (Yes, you can skip all this and supplement with herbed goat cheese from the store instead).
Roll out pizza dough and place on baking sheet that's been lightly dusted with cornmeal. Drizzle olive oil and season with salt & pepper.
Spread half of the pesto on the dough, top with half of the tomatoes and olives, and dollop half of the goat cheese around the pizza.  Optional- sprinkle with a small amount of mozzarella or parmesan (or both!).  Prep the other pizza using the same steps.
Bake for 12-15 minutes until crust is golden.
Pizza Dough Recipe
makes 4-5 small pizzas
2 1/2 teaspoons yeast
1 2/3 cups warm water
3 1/2 cups all purpose flour
1/4 cup wheat flour
2 teaspoons sugar
2 teaspoons salt
2 teaspoons olive oil
Place yeast in small bowl and add a few tablespoons of the warm water, let sit 2 minutes.
In a separate bowl, mix together the flours, sugar, salt, and olive oil
Add the yeast and remaining water
Mix (don't knead too much) until combined.  The less handled the better…this gives you those fun pockets.  Dough should feel a little on the wet side.
Lightly cover and let rise 1 hour
After it's risen, it can be refrigerated for later use