I recently returned from a trip to Italy and, as I always do with special vacations, have been trying to find ways to bring the experience back home with me.  So there's been wine (duh and not atypical from the norm), espresso and cappuccino at home, and I'm even giving a stab at homemade limoncello. It's Spring but it's also been a bit chilly so I was craving something fresh but hearty to keep me warm.  Risotto to the rescue!  Don't fret. It's easy. I don't know why risotto has the impression that you have to stand over the stove forever and that it's temperamental. It's rice for crying out loud.  Paired with, of course, an Italian playlist….so you may want to get your opera voice ready….me-mi-me-mi! Oh, and if you're asking why "My Way", it's because EVERY street musician was playing it.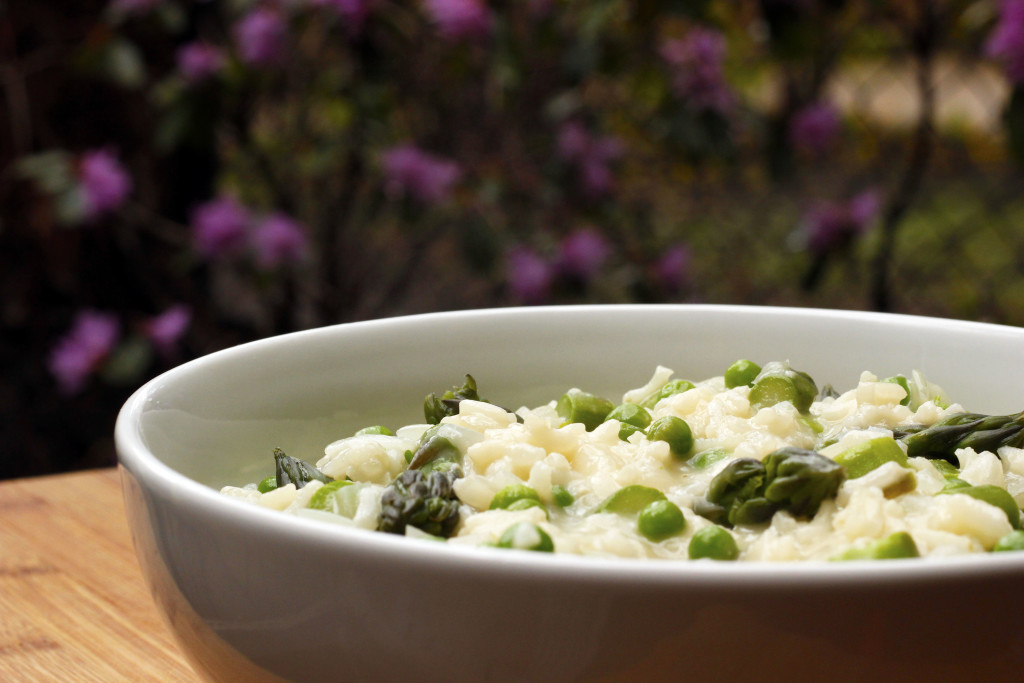 SPRING RISOTTO
2 tablespoons butter (divided into 1 tablespoon each)
1 tablespoon olive oil
1 small onion, diced
Salt
1 cup arborio rice
1/2 cup white wine
4 cups chicken or vegetable stock, kept warm on stovetop
1 bunch asparagus, chopped and blanched
1 cup peas
1/2 lemon, zest and juice
1/2 cup parmesan cheese, grated
In a large pot, melt 1 tablespoon of butter with the olive oil.
Add onion, a pinch of salt and saute until softened, about 5 minutes.
Add rice to the pot, stir to coat, about a minute or two.
Add wine and stir until it's absorbed by the rice.
Begin adding the warm stock,  a ladle or two until the rice is covered and at a slow a boil. Cook, stirring often, until it's absorbed. You don't have to stir the entire time but you also don't want to just let it sit to absorb the stock. Add another ladle and continue this process….ladle of stock, stir, absorb…until the rice is tender but still al dente.  It should take about 20-25 minutes and should be creamy.
Sir in the asparagus, peas, lemon zest and juice, and the remaining 1 tablespoon of butter and the parmesan cheese.