Why did I wait so long to try making Thai food at home? It's not nearly as complicated as I had imagined. After trying a few different recipes, I started winging it on my own and have been doing this red curry, always with some type of variation. Sometimes it'll be a diced chicken breast added along with the vegetables, sometimes adding baked tofu at the end. The core of it though seems to stay true to this recipe which I've kept coming back to these last few months. Another thing I keep coming back to is this playlist of Questlove's Top 50 Hip Hop Tracks. I've narrowed down my favorites for your listening while you cook pleasure because I KNOW YOU GOT SOUL!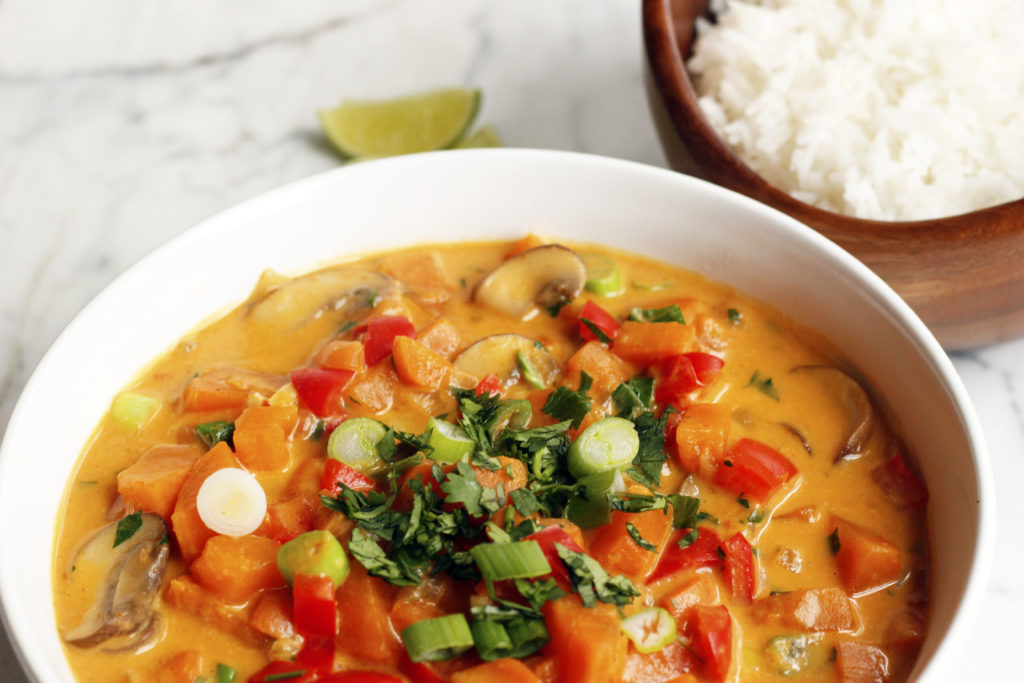 VEGETABLE THAI RED CURRY
Serves 4
2 tablespoons coconut oil
½ onion, sliced
2 cloves garlic, sliced
1 tablespoon ginger, grated
4 oz cremini mushrooms, sliced
1 sweet potato, peeled and diced
2 carrots, peeled and diced
1 red bell pepper, diced
2 dried thai chilis
3 tablespoons red curry paste
1 14oz can coconut milk (full fat, not light)
2 cups vegetable or chicken stock
1 tablespoon fish sauce (omit if vegan/vegetarian)
1 tablespoon soy or tamari sauce
Juice and zest of ½ a lime
1 tablespoon brown sugar
3 green onions, sliced
¼ cup chopped cilantro
Salt and pepper
Heat oil in a large pot or dutch oven. Saute onion garlic, ginger and mushrooms. Season with salt and pepper.

When mushrooms have released their water, add sweet potato, carrots, red bell pepper, thai chilis and cook 3-5 minutes.  

Add red curry paste, stir well and cook for one minute.

Add coconut milk, vegetable or chicken stock, fish sauce, soy or tamari sauce, lime juice and zest and brown sugar. Stir to combine.

Cook covered over medium heat for 20 minutes.

Turn off heat, remove thai dried chilis and add green onions and cilantro.

Serve over rice.