It's sweater weather! As soon as the air turns crisp and the leaves start to turn, I'm all about soups, stews and any other food that begins with an S that warms you up. Here's a fall/winter favorite…chicken pozole verde. I've yet to make a pozole rojo as I can't tear myself away from this one. Super easy. Super tasty. Paired with a playlist of my favorite fall releases.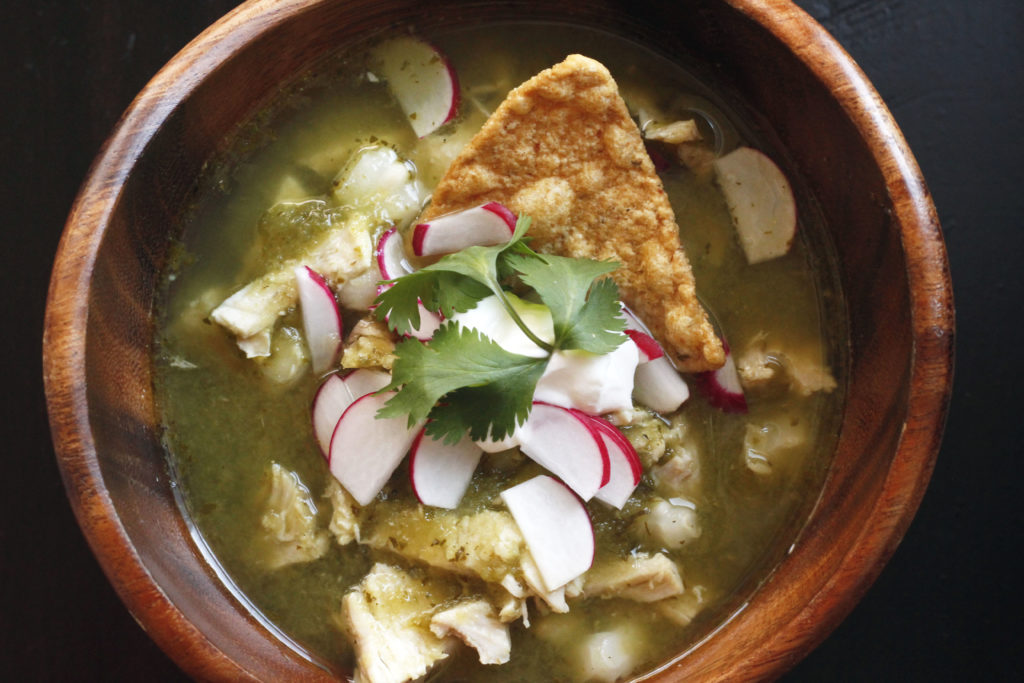 Chicken Pozole Verde
Serves 4
Adapted from Food and Wine
3 1/2 cups chicken stock
1 cup water
2 boneless, skinless chicken breasts
1/2 lb tomatillos, husked and halved
1/2 onion, quartered
1 poblano chile, cored, seeded and roughly chopped
1 jalapeno, seeded and roughly chopped
2 garlic cloves
1/4 cup cilantro
1/2 tablespoon oregano leaves
salt and pepper
1 tablespoon vegetable oil
28 oz can of hominy, drained
Toppings of your choice (sliced radishes, avocado, tortilla chips, sour cream, lettuce, onion)
In a dutch oven or large saucepan, bring the stock and 1/2 cup of water to a boil. Add chicken breasts,cover and simmer for 20 minutes. Transfer chicken to a bowl and shred or transfer to a cutting board and dice chicken.
In a blender, add the remaining 1/2 cup of water, tomatillos, onion, poblano, jalapeno, garlic, cilantro and oregano. Puree mixture and salt and pepper to taste.
In a deep skillet, heat the vegetable oil until shimmering. Add the tomatillo puree and simmer, stirring occasionally, until the color turns a deep green (roughly 10-12 minutes).
Pour the tomatillo puree into the stock. Add the chicken and hominy and bring to a simmer until heated through. Add your preferred toppings.