Ahhh, the end of year "best of" lists. Yes, I have mine too. Best meal I had in 2017? Frenchie Wine Bar. Best recipe I discovered? This one. Although I first made Julia Turshen's String Beans with Pork, Ginger & Red Chile late last year, it's been the recipe I've made more than any other in 2017…with a few variations to bump up the protein be more of a main course. It's a perfect weeknight dinner. What to serve with the most made recipe of the year? Why a playlist of the best songs of 2017, of course! Wishing you all great food, music that moves you and fantastic company to enjoy it all with. Cheers to 2018!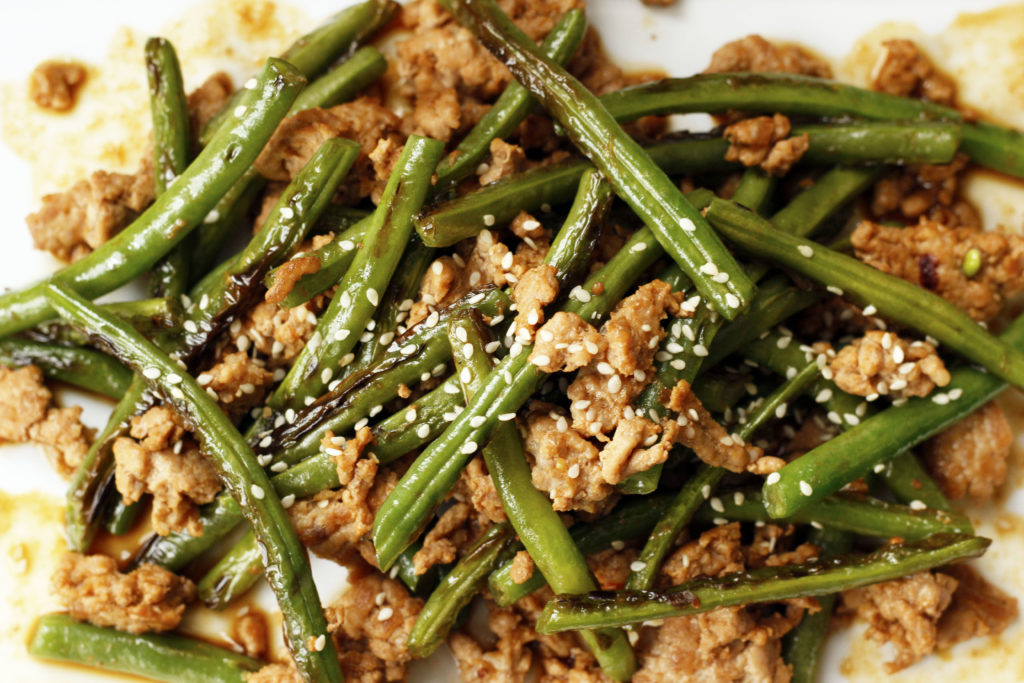 Green Beans with Pork
Adapted from Julia Turshen's Small Victories
1/4 cup canola or vegetable oil
1 lb green beans, trimmed
3/4-1 lb ground pork
2 tablespoons minced peeled ginger
1/2 teaspoon red pepper flakes
1/2 cup chicken stock
1/4 cup soy sauce or tamari
salt and pepper
sesame seeds
In a large skillet, heat 2 tablespoons oil over high heat. Add the green beans and resist the urge to stir. You want them to get a little charred in spots. Once they do, toss and continue to char them a bit. Total time is about 5 minutes. Transfer the green beans to a bowl.
Add the remaining 2 tablespoons oil to the pan. Add the pork and cook, stirring occasionally, for roughly 3 minutes.
Add the ginger, red pepper flakes and lightly season with salt and pepper. Cook (keep stirring here and there) until the pork is browned.
Return the green beans to the skillet. Add the chicken stock and soy or tamari and cook for another minute or two.
Serve with white or brown rice and sprinkle with sesame seeds, if desired.