Stop throwing garbage in your face and TREAT YO-SELF to something that tastes good and nourishes you! Packed with vitamins A, C, K, fiber, iron, and protein, these superfoods will have you feeling like a super hero. Eat this well consistently and you'll want to rip off your shirt to reveal your inner badass costume all the damn time.  Paired with a "super" playlist.  Now go save some lives!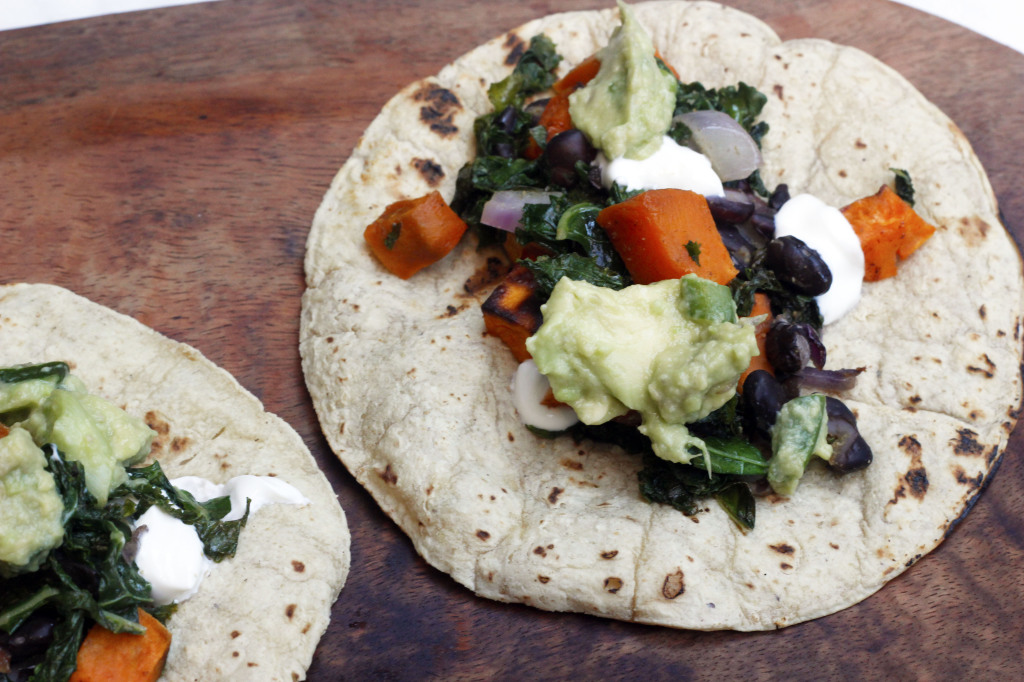 SUPERFOOD TACOS
2 sweet potatoes, peeled and cut to 1″ cubes
2-3 cups kale, roughly chopped
1, 15oz can of black beans, drained and rinsed
1/4 red onion, diced
1 teaspoon cumin
Coconut or olive oil
Salt & pepper
Tortillas
Garnishes: guacamole, sour cream (omit if vegan)
Preheat oven to 400 degrees
Toss sweet potatoes with 1 tablespoon of oil and salt and pepper and place on baking sheet.  Roast for 25-30 minutes until tender
Heat 1 teaspoon of oil in saute pan over medium high heat.  Saute onion until softened, about 5 minutes.
Add kale, black beans, cumin, and salt and pepper and saute until kale is slightly wilted and black beans are cooked through, 5 minutes or so.
Add cooked sweet potatoes to kale/black bean mixture.
Heat up your tortillas and top with your superfoods and garnishes.