Spring's arrival with warmer temps and more sunshine has me excited for good times while being outdoors. It's all so close I can almost feel it. Sun on your skin but you're not hot, nice breeze, overall sense of relaxation and happiness, and, for me, Spring always brings a fun curiosity of what's to come. Don't waste these precious months indoors preparing lengthy meals that heat up the kitchen. Marinate the meat first thing in the morning, then at dinnertime simply prep the salad and get outside and grill the beef.  The only other things you need are a tasty cocktail, outdoor seating, great friends, and these slick jams. Ahhh yes…everybody loves the sunshine.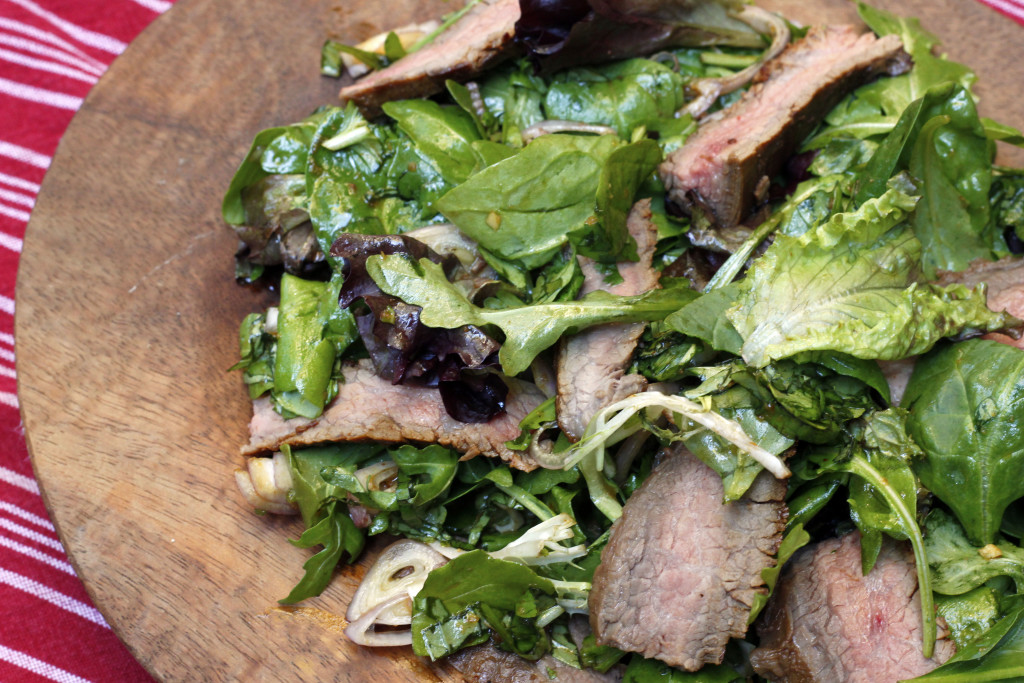 THAI BEEF SALAD
(adapted from Ellie Krieger)
1 pound top-round London broil or flank steak
3 tablespoons lime juice, divided
3 tablespoons soy sauce (or tamari)
3 tablespoons canola oil
2 tablespoon brown sugar
1 teaspoon minced garlic
1 1/2 teaspoons minced ginger
1 1/4 teaspoons red curry paste
1/2 head red-leaf lettuce, torn
3 shallots, thinly sliced
1/2 cup cilantro leaves, chopped
1 cup basil leaves, sliced
Place the meat in a plastic sealable bag.  

In a small bowl, combine 1 tablespoon lime juice, soy sauce, canola oil, brown sugar, garlic, ginger, and red curry paste. Pour half of it into the bag with the meat.  Reserve the rest for the salad later.  

Add the remaining 2 tablespoons of lime juice to the meat.

Place bag in the refrigerator and marinate at least 4 hours and up to 8 hours.

Preheat a grill or grill pan.  

Grill steak, roughly 5 minutes per side. Let rest while you prepare the salad, then thinly slice against the grain.

Place lettuce, shallots, cilantro, and basil in large bowl.  Add some of the reserved dressing and toss.

Divide salad amongst plates and top with beef.  Drizzle beef with any remaining dressing.